​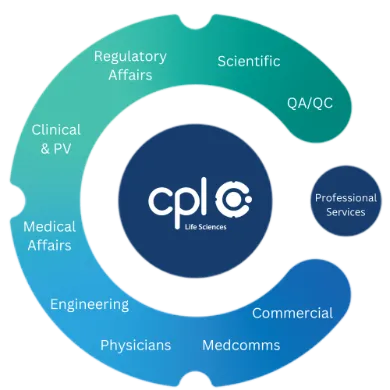 Total Talent Solutions
Connecting the brightest minds in life sciences
​At Cpl UK Life Sciences, we're experts at connecting talented professionals with the most ambitious companies in the industry.
With excellent local knowledge of markets across the UK, Switzerland, and the USA, you can trust us to help with your all your executive search, temporary and contract, permanent, and embedded talent solutions. ​
Our team of specialist sector specific consultants has a deep understanding all life sciences functions. We provide talent and staffing solutions across a range of pharmaceutical disciplines including clinical, pharmacovigilance/drug safety, regulatory affairs, quality assurance/ control, medical information, commercial, data management, medical communications, biostatistics, scientific and engineering.
We have a proven track record of delivering successful life sciences recruitment services for many of the world's leading life sciences organisations. From big pharma to small biotech start ups, we can deliver the total talent solutions you need. Whether you have a hard to fill regulatory affairs role, you're looking for a senior executive to lead your biotech, or you're building your professional services team from the ground up, you can count on us.